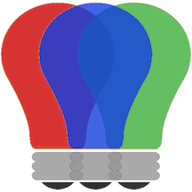 Language Reference¶
This page describes the syntax and capabilities of Bardolph's scripting language. For information on how to run a script, please see Command-Line Tools.
Internally, launching a script is a two-step process. First, a parser reads the source file and compiles it into a sequence of encoded instructions. Next, a simple virtual machine executes those instructions. A job-control facility maintains a queue, allowing execution of a sequence of compiled scripts.
A script sets the color and brightness of the lights by specifying 5 numbers: hue, saturation, brightness, kelvin, and duration. During execution, the Bardolph virtual machine sends these settings to the lights.
One easy way to understand the meaning of these numbers is to use the LIFX mobile app and observe the displayed numbers as you change the lighting.
The value you supply for hue is an angle expressed in in degrees, normally between 0 and 360. The values for saturation and brightness are treated as percentages, while kelvin is a temperature modification applied by the bulbs to the resulting color.
All of these number must be positive, and may be floating-point values. Percentages above 100 are considered invalid. Angles greater than or equal to 360 are normalized to a number less than 360 by modulo arithmetic.